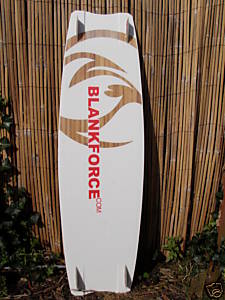 Got a couple of 2009 Blankforce Boards reduced to make way for the 2010 boards....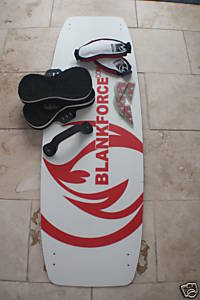 BFS 132x40cm
NOW REDUCED TO £299

The best selling shape for everyone, from beginner to high level riders, that will take you through your first jumps to rotations. The board is absolutely perfectly balanced and forgiving. It offers concave bottom and high-end features, at an extremely competitive price.
This is the new board range that everyone is talking about, everyone who trys them coming back with same comments, super smooth, huge pop, easy and fast up on the plane etc etc
Its an absoloute dream, and in past year where i have often had boards that have always had a niggle about them, there has always been one negatvie, i cant fault this board. everything works, there are not imperfectinons. its stunning and gets a full thumbs up. The Blankforce range also come with a 2 year warranty, a nice peace of mind in an age where everyone has to be careful what they spend..
One riders Review...............
How it rides?
Well, instantly it becomes appearent how much spring the board has after loading up an edge. You can load up in more or less any choppy water, into a controlled trick particularly easy.
I also found that landings were exceptional comapred to what i have been riding. i can come in from the hardest trick with the kite infront of me, not expecting to land , or be able to absorb the impact, but its like landing on cotton wool, i dont quite know how it manages to absorb all the energy. where does it go?
Its quite a wide stance, but nothing too wide. perhaps a little narrower than a SS lunacy, wider then a 666 or a Brunotti pro - x. the pads are brillaint too, wide a secure grip on ones feet.
This board is build for Wakestyle and Freestyle- enthusiasts. Maximum output for loaded pops. The consequent Freestyle board to ride with less kitepower for maximum control in downloops and other unhooked stuff. Therefor we build this board oftfen as a lightwind machine with small concave for early planing. Although this board plains so early and is rearly light that you just feel confortable on any tricks and you still have fun if the wind freshens up. The feeling is still like a small board and even high speed carving is no problem
BFX WOOD
132x39cm

RRP £399 now only £349
The ultimate jumping machine for the competent rider. Our new design, built to the requirements of our leading riders, sets new standards with its concave scoop with flat edges. The chanels on the tips, give you a soft ride with a high degree of steering and control. It will catapult you to big jumps with ease, even in difficult wind and water conditions. Even really sketchy landings are sorted out and the canel-tip give you high control capacity even in shopy water
.
BFX and BFD CONSTRUCTION
TOP SHEET
0.5 mm abs topsheet bright
LAYER TOP 1
S-glass 100g UD
LAYER TOP 2 and 3
2x S-glass 200g BIAX
CORE
10 mm ULC WOOD CORE
LAYER BOTTOM 3 and 2
2x S-glass 200g BIAX
LAYER BOTTOM 1
S-glass 100g UD
TOP SHEET BOTTOM
0.5 mm abs topsheet dim
SIZES
chanel 132 x 39
COMFORT FOOTSTRAPS
FEATURES:
quick mount
full neopren outline
multi size adjustable
strong construction
COMFORT FOOTPADS
FEATURES:
hang-ten grip
full EVA multi layers
PVC disc for quick mount
color white or black available
G10 FINS
FEATURES:
M6 screw fixation
full G10 material
red print advisory
Sizes: 4cm